HEY, STYLE SEEKER!
Want to unlock, unblock and
unleash your personal style?
Come on in and join the colorful style community created just for you to spark your inspiration, explore your signature colors, discover your personal style, cultivate creativity and connect with like minded women.
"I love this new color club and I am treating it as my monthly coffee allowance. As I don't drink coffee, I figure this is a good substitute. I am incredibly excited about journaling and think I have just found another rabbit hole to fall down"
~Jocelyn
Does this sound like you?
"I have too many clothes and

nothing to wear."



"I just don't feel like me anymore."
"I feel invisible. It's like people are looking through me instead of noticing me."
"I'm sick and tired of looking frumpy. Sometimes, I hate the way I look."
"I've wasted a ridiculous amount of money on clothes that just don't look good on me."
"I'm tired of looking like I don't care about myself, but I don't want to have to spend a lot of time or money improving my wardrobe."
"I just want to learn my signature style."
"What is that magic formula that has me feeling pulled together, confident and truly me?"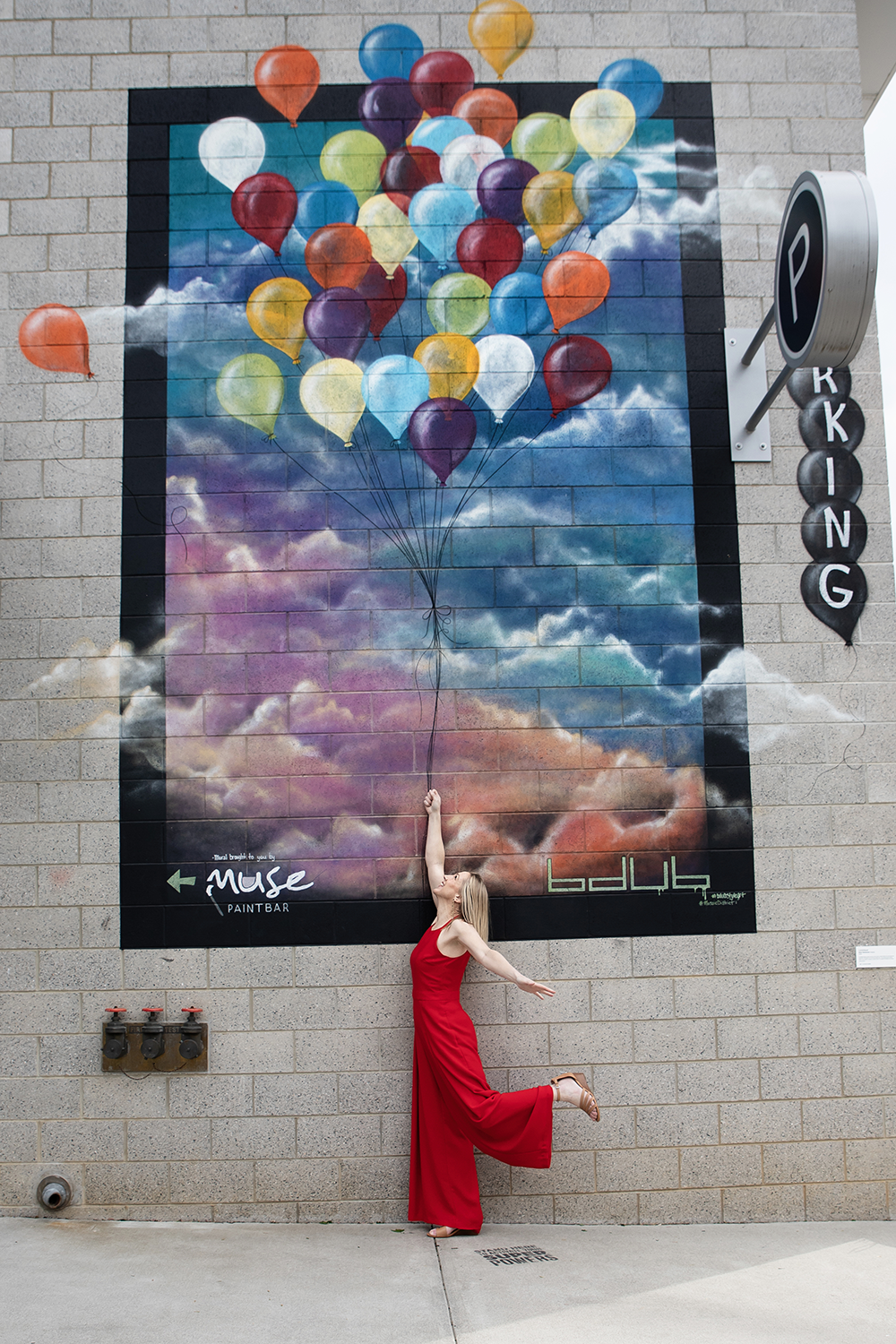 Here's the thing...
Your signature style is not about fashion. Your signature style is how you do YOU. When you are comfortable in your own skin and have the courage to truly be yourself… defining your signature style is easy. It hardly takes any effort at all. Because your signature style is an expression of your true nature.
When you become whole and are connected to your true essence, you will:
Be willing to take risks.

Trust your choices.

Find joy within yourself.

Stop worrying about what other people think.

Stop worrying about fashion rules and trends. 
When you wear what you truly like (dare I say LOVE)... you have found your Signature Style. It will be an expression of your true nature. 
You deserve to feel pulled together and start dressing the way that makes you feel good. No... that makes you feel AMAZING! Because it feels so good to be YOU.
"I'm feeling confident and 
20 years younger!
 Getting older doesn't mean losing your personality or style."
"I LOVE shopping now!
 I can walk into any store and find something that actually goes with my other clothes."
"My friends are asking ME for advice
 on what they should wear. They're always telling me how good I look."
"I feel like a professional stylist.
 I now feel confident trying different colors and combinations that I would never have thought of before."
"I actually feel like me again.
 It feels so good to express myself the way I want to... and have the confidence to do it."
"I am rockin' it!
 I really love the way my style is showing up."
"I actually like the way I look
... for the first time in a very long time."
…all in less time than it takes to binge-watch your favorite show
(and with a much better boost to your self esteem).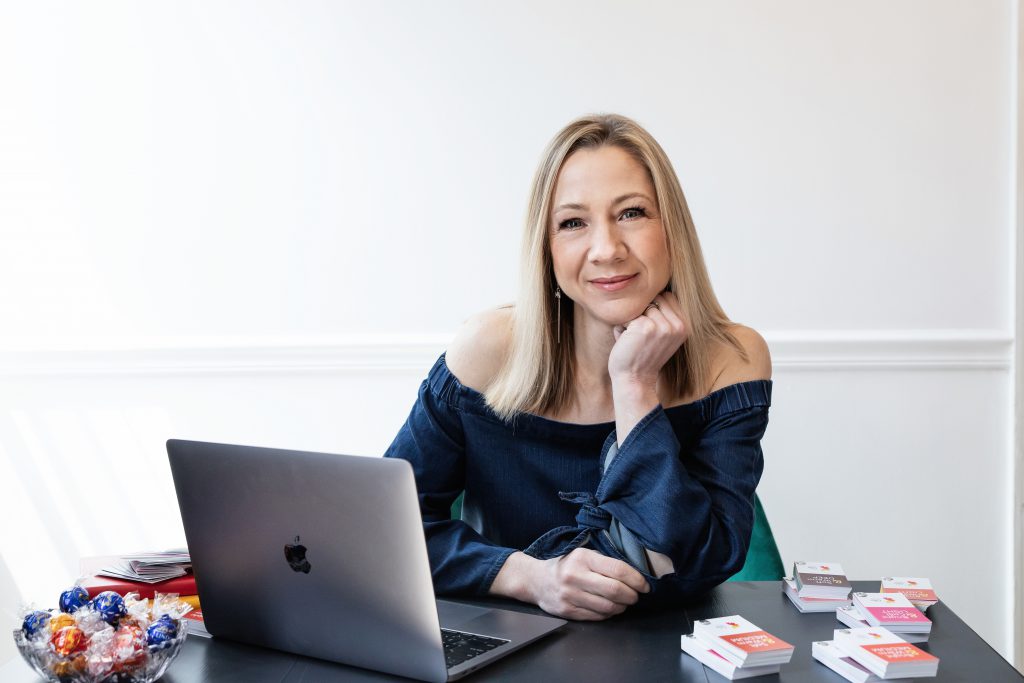 Meet Your Guide


Hi! I'm Jen Vax. I am so happy you are here. I am your behind-the-scenes coach here to guide, support and encourage you on your personal style and color journey.
Like you, I have felt frumpy and blah. I was constantly seeking my personal style and never really liking how I look.
But I've been through a journey of self discovery to grow into a person that is finally comfortable in her own skin (and confident in my style choices).
Today my mission is to help amazing women, like you, discover the creative playful fearless loving girl that is their true nature and create a signature style that expresses who they truly are.
"Color analysis peaked my interest lately when I started to notice that when wearing certain colors, I needed less
makeup and felt more vibrant and less tired ( and trust me, I need that hahaha) I am so glad to have found this platform and I am beyond happy and amazed with all I am learning right now!!! Can't wait to discover more!!! "
~Melanie
Curious what your color style
adventure will look like?
Go ahead and take a peek...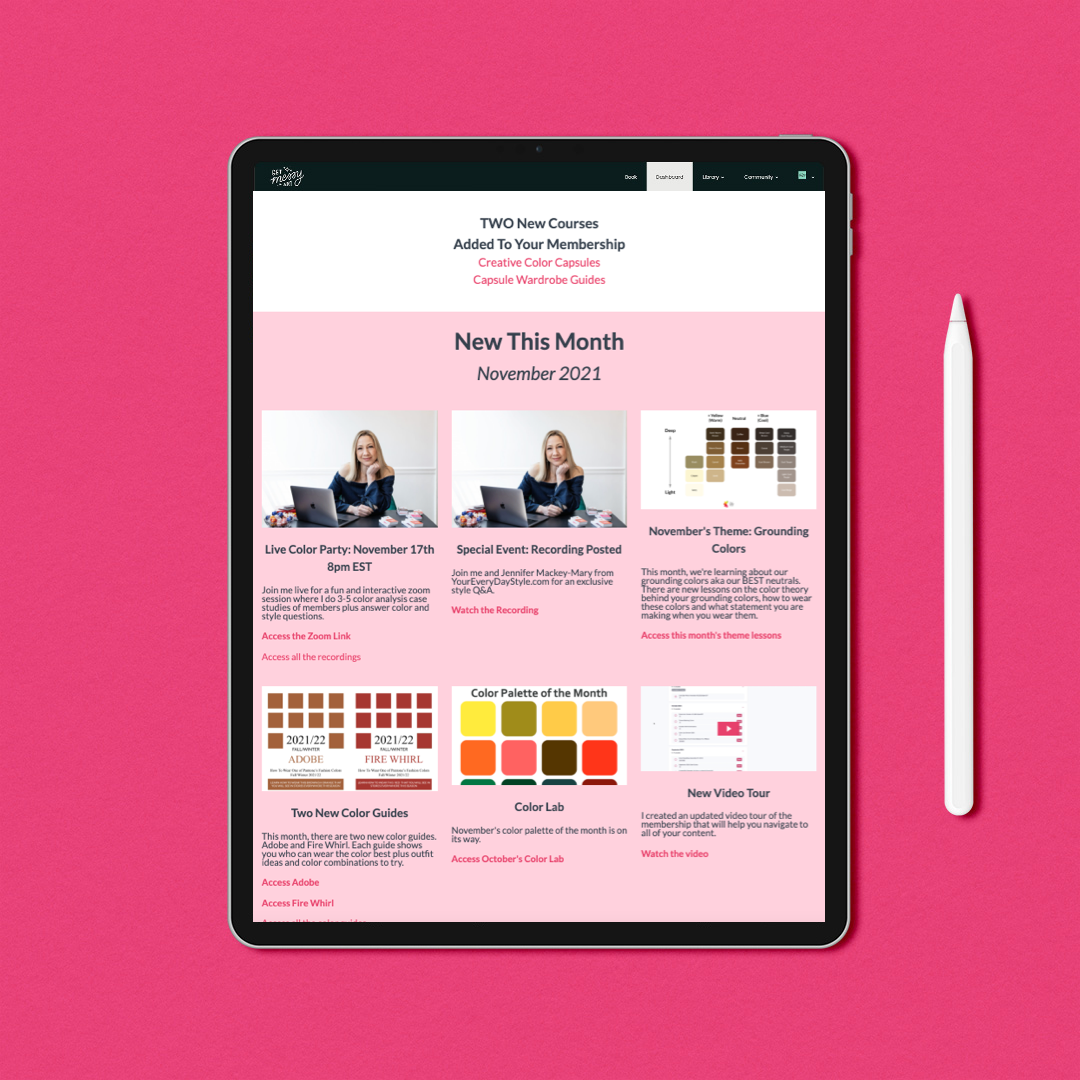 Members Home
A Dashboard for Stylish happenings. The latest discussions, challenges, announcements and monthly content at a glance.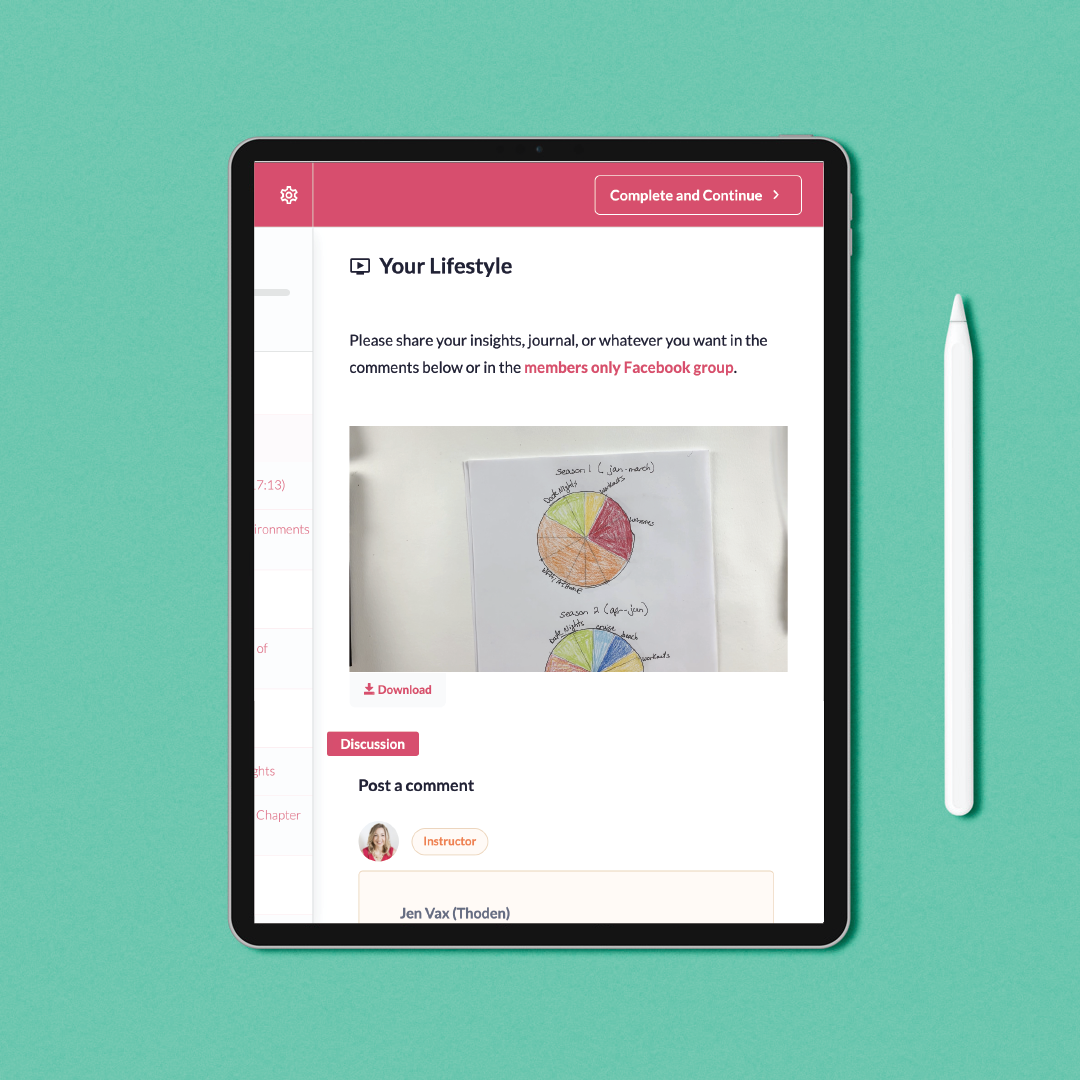 Discover Your Signature Style
You will have access to the Colorful You program where we have fun discovering our personal style and signature colors.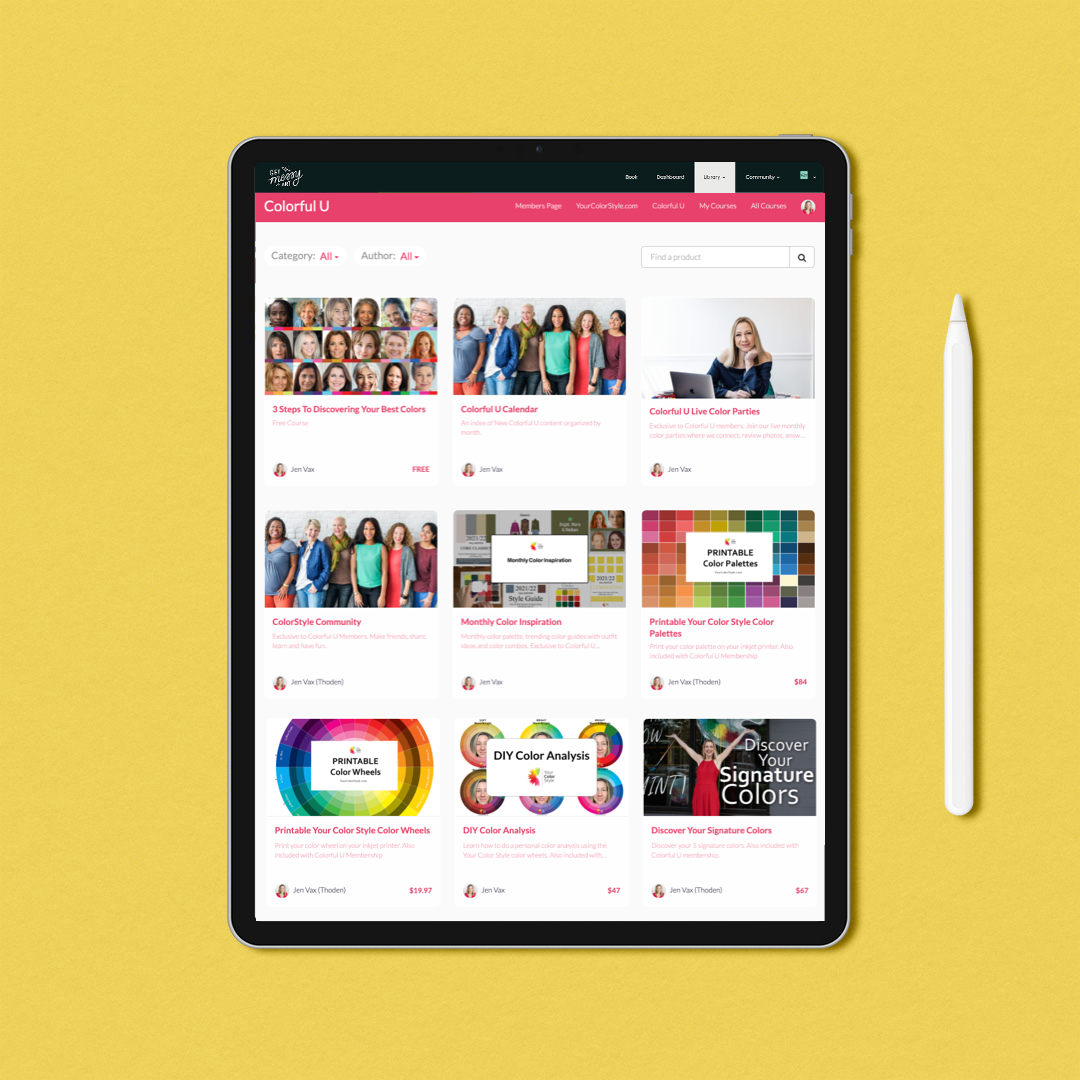 Filterable Library
The Colorful U Library is a growing repository of courses and lessons. Search by what you need or filter by category.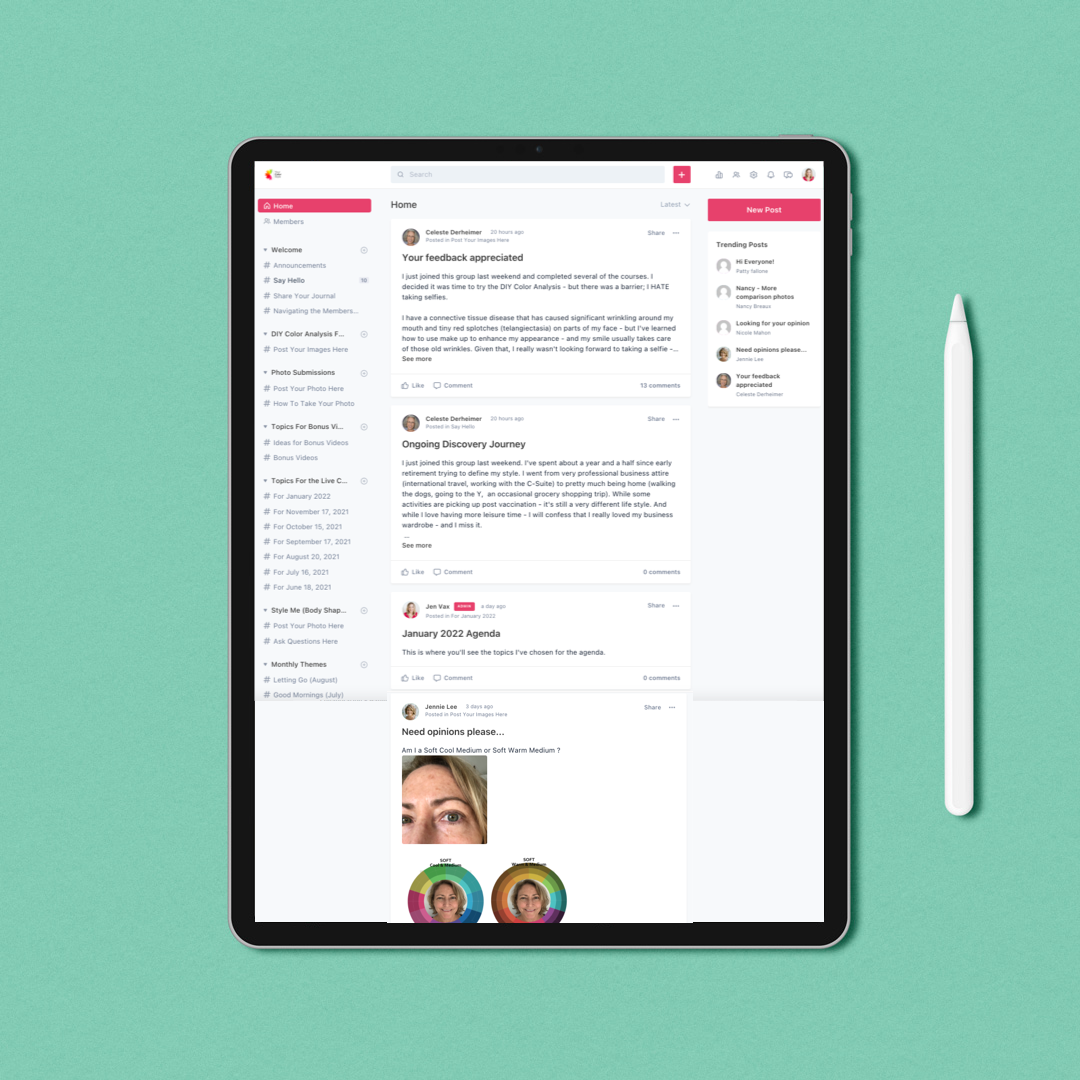 Community
A safe space to connect within a private Facebook group. This is an exclusive space where you can:
Connect and make friends
Share your responses to the color and style challenges
Ask style and color related questions
Post your photos for feedback on color and style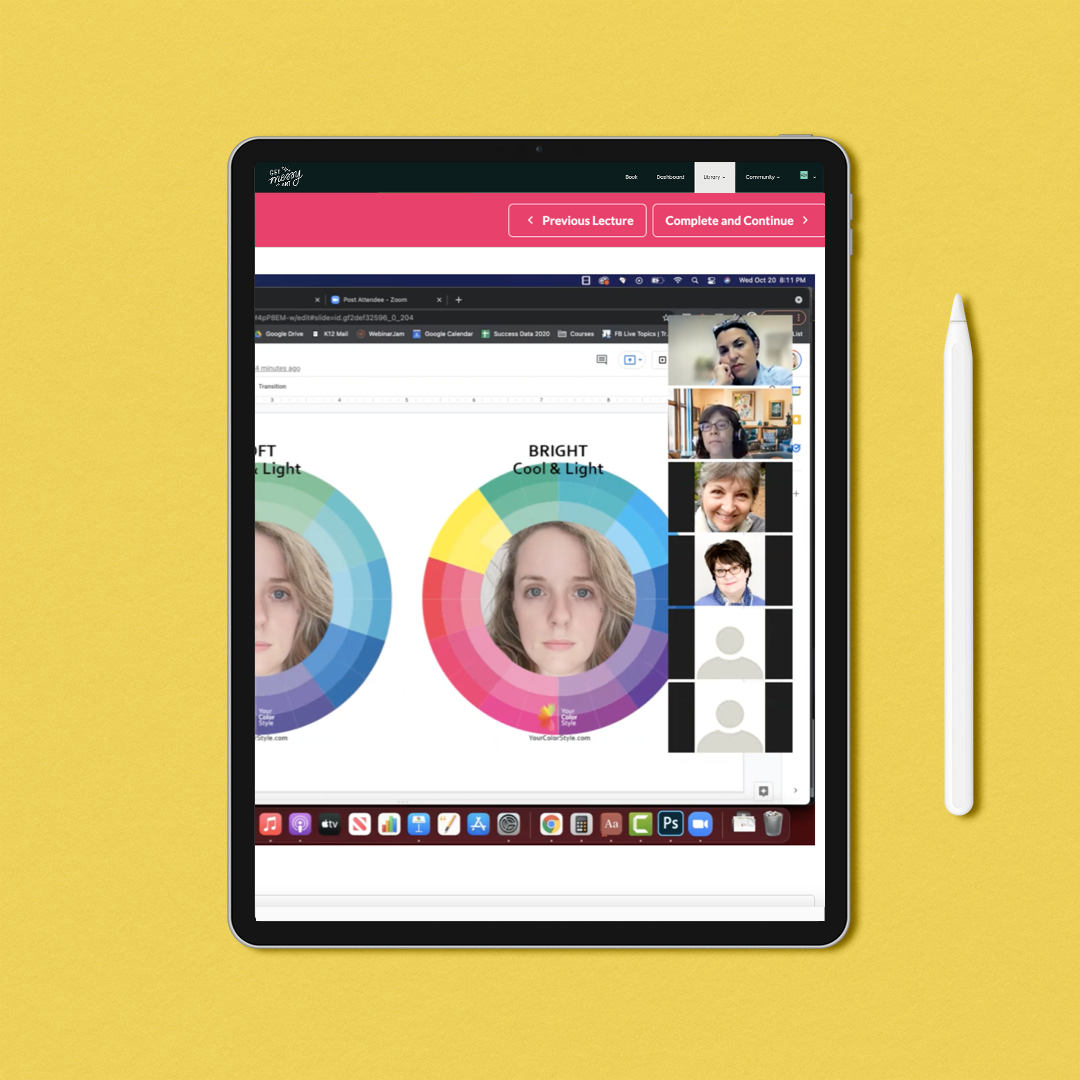 Live Color Parties
Join us monthly to connect, laugh and enjoy. Jen and team answer color and style questions and work through a Colorful U assignment.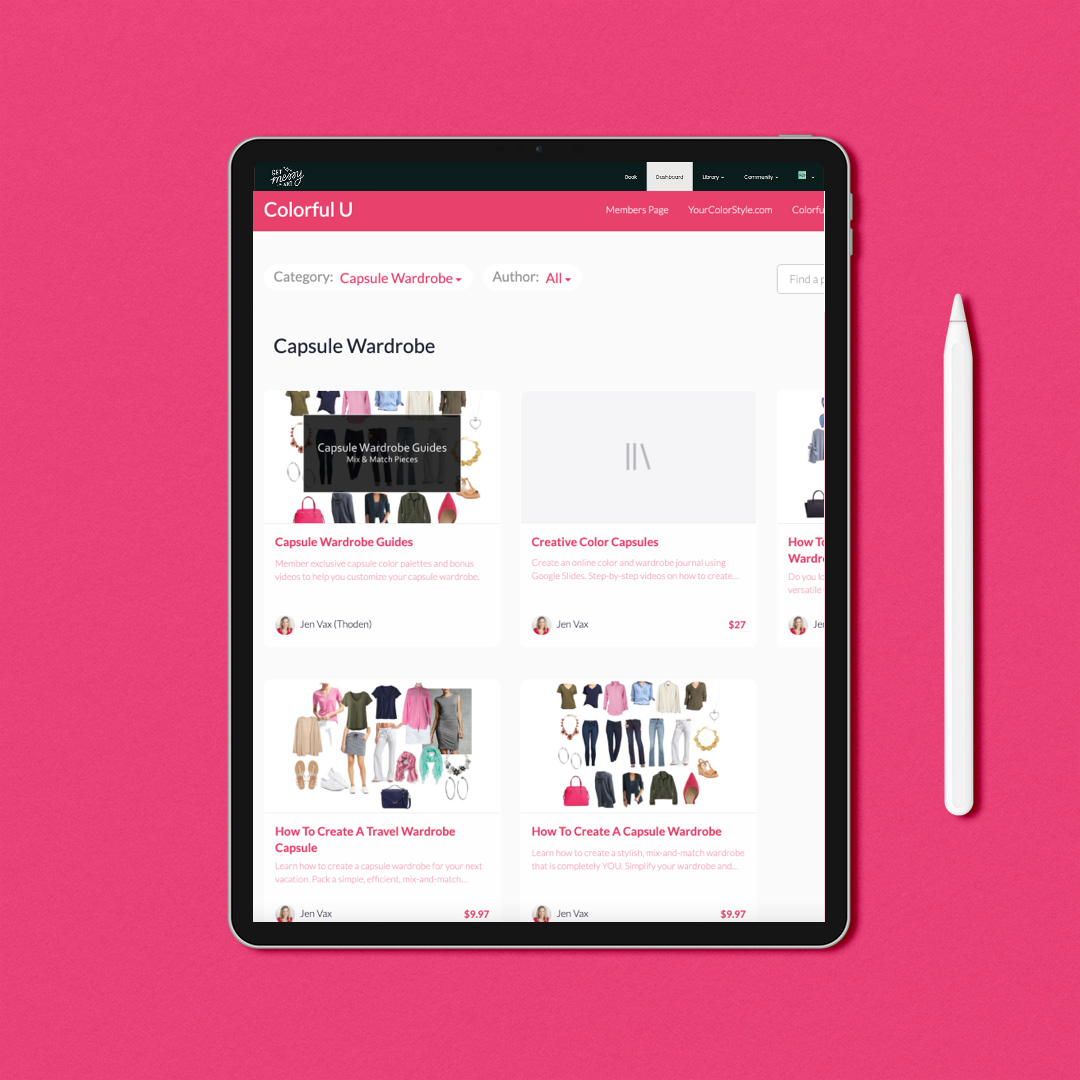 Capsule Wardrobes
Enjoy a collection of courses and resources designed to help you create custom capsule wardrobes that fit your style and color palette.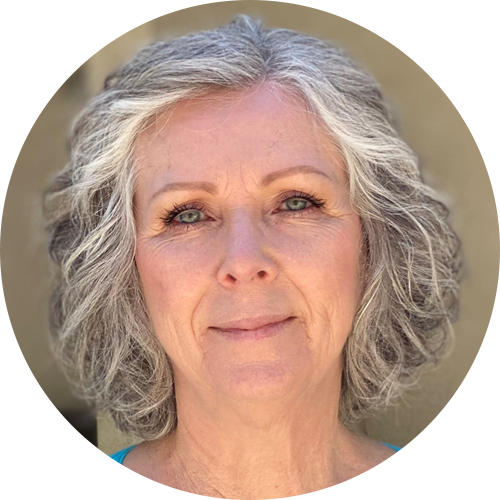 Thank you, Jen, for doing my case study. I'm very appreciative of the details that you included. Going from a lifetime of red coppery hair to now silvery gray has been a challenge with some frustration at times. Knowing that Bright, Warm & Light will work for me for the next twenty years or so -- LOL -- was awesome news!!! Your insight, color expertise, and art background are wonderful assets from which we greatly benefit.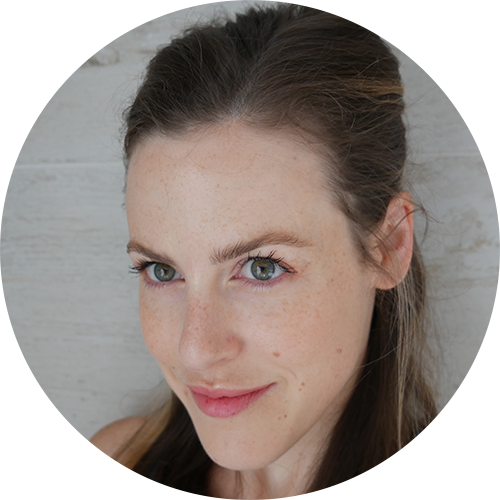 Jen, thank you so very much for taking the time to analyse my coloring in yesterday's call! I was blown away! I was really confused and seeing the draping and hearing your thoughts just clarified a lot for me!! I am now more confident than ever with warm colors and I bought the bright warm and medium color fan and style guide! Now, let's tackle the wardrobe with your amazing classes!!! Thanks again for everything you are doing and sharing!!!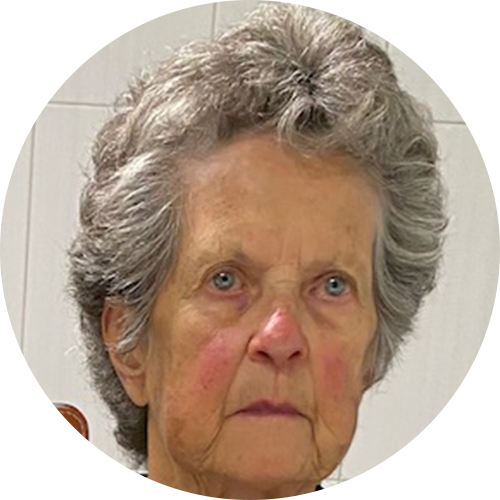 Jen thank you so much for helping me choose my best colors. You are fantastic! Spending so much time to help us is really very much appreciated.
Now I understand my olive skin tones so much better. I now know why I don't wear yellow or green, but Iwas planning to try some. Now I know betterand will save some money.
I loved the color party.
"Thank you so much for featuring my photos! I can see now how warm makes me look better, where I just couldn't tell before. I love the bright warm color palette!


The video today really made my day. I'm going through a stressful divorce right now, and this was just the boost I needed to make me feel truly good and beautiful. Thank you and keep up the good work! I can't wait for the next zoom!"


~ Katy
Here's Everything That's Included With
Your Colorful U Membership
(plus exclusive access to the private Facebook Group)
"I joined despite reservations and I am super excited about the journaling. I also loved the catalog walk through. The new membership is so much better now. We were all a bit depressed over Covid last year. Onwards and upwards!"
~Nonna
What You Can Expect As A
Colorful U Member
Everyday, we connect in the private Facebook group:
We share photos of our colors and outfits for feedback
We ask questions around color and style
We share our work from the Colorful You program
We make friends
We have FUN!
Every 6 months, you will receive:
The season's trending color report packed with outfit ideas, color combinations and who can wear each color best
The season's core classics report which spotlights the season's trending neutrals along with inspiring outfit ideas.
Every 3 months, you will receive:
We kick off a new season of the Colorful You program, where we have fun designing our signature style and colors. This is the heart of the membership.
An exclusive discount coupon to the season's capsule wardrobe which will have a color palette and links to all of the items.
Custom capsule color palettes for each color type so that you can apply your color palette to the capsule wardrobe.
Each month, you will receive:
Access to the live color party
2 new trending color guides with more outfit ideas and color combinations.
A new color palette of the month to inspire you try something different.
A color lab video explaining the color theory behind the color palette
The trending color guides and capsule wardrobe content will rotate out after 3 months. For example, when new content is posted December 1st, September's content will rotate out.
But don't worry, as a VIP member you will have access the complete repository of trending color guides and color labs.
Look At All the FUN Content
We Explored in December and January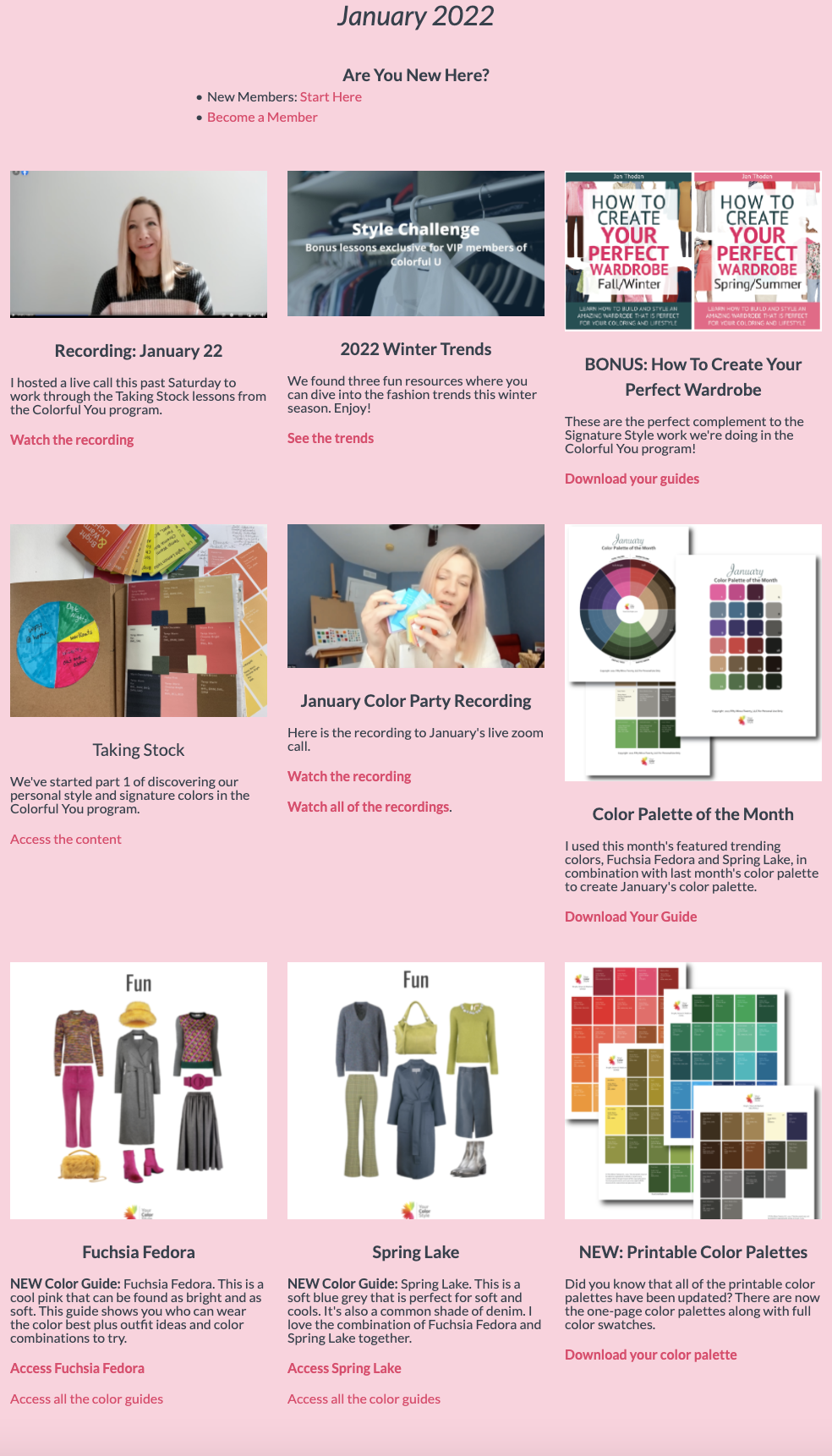 January 2022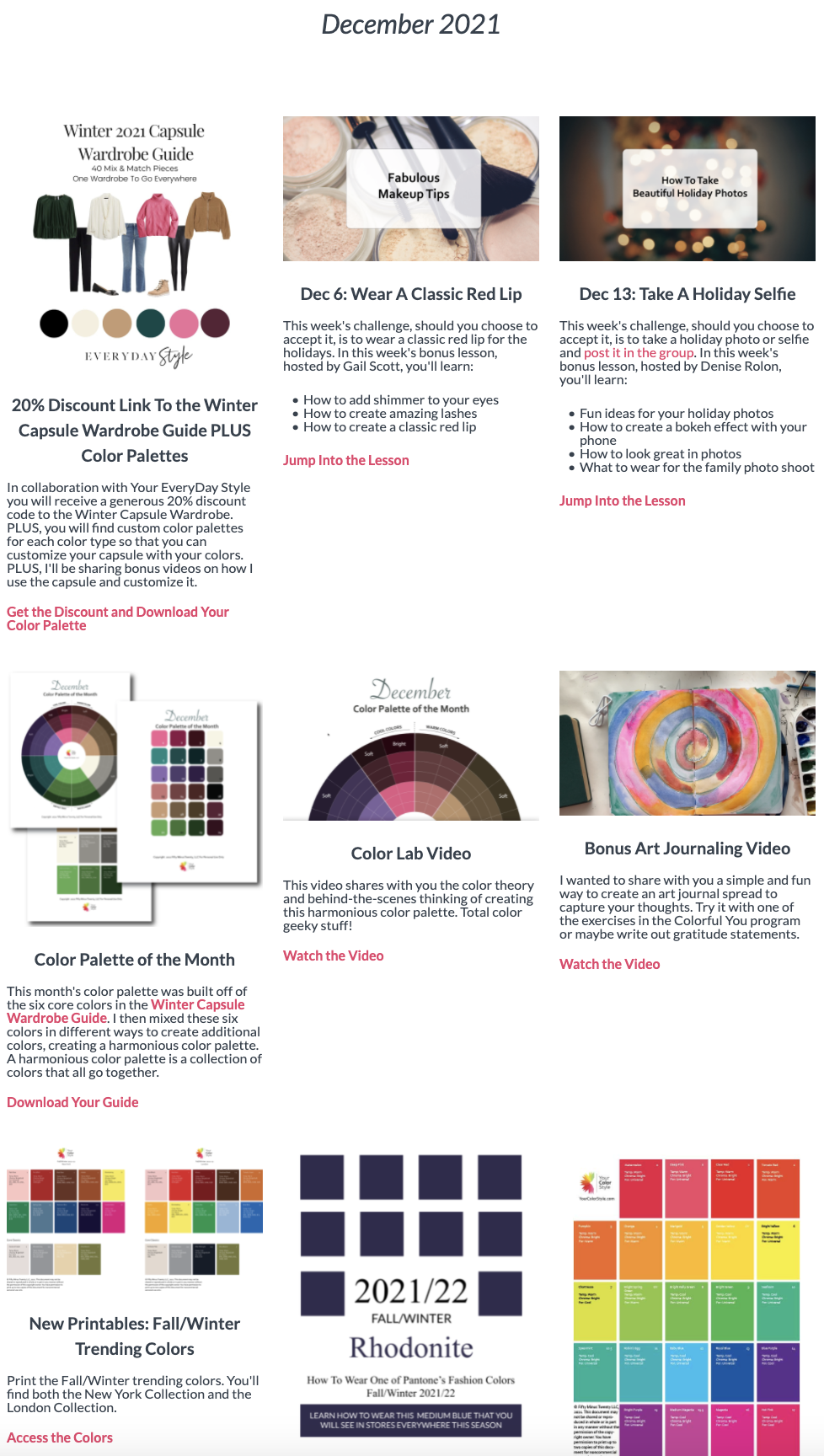 December 2021
Frequently Asked Questions
Can I pay with Paypal?
Yes! You can pay with Paypal or a Credit Card.
What is monthly fee to join the Colorful U Membership?
The monthly fee is $29/month.
Can I cancel at anytime?
Yes. We'll be sad to see you go, but it's ok. You can easily cancel by going to Manage Subscriptions in your account.
What happens when I cancel?
You will continue to have access to the content until your subscription expires. For example, if you were billed on the 1st, and you cancelled on the 5th, you will continue to have access to all of your content and the community until the 1st of the following month. You will also be removed from the private FB group.
Can I download my content?
Yes. You will be able to download most of your PDFs and videos.
I have question or need help.
Please reach out to my support team at [email protected] and we will be happy to help you.