Color Mastery is a 10-Week online program hosted by Your Color Style founder Jen Vax. You'll be guided through signature tools and training for seeing color through the lens of pigment and color analysis.
As you progress, you'll start seeing color differently. For instance, you will notice if a shade of red is a warm red or a soft-cool red. You'll begin to know if a color will work with your color palette and when it does not. You'll even learn how to make a color work within the colors in your wardrobe. Powerful.
By the end of the program, you'll have total mastery of how you see color - and in turn, complete confidence in choosing colors for your wardrobe, home and makeup.
Here's What Your Color Mastery Learning Path Could Look Like...
After the Color Mastery program, continue your learning with Colorful U's other programs: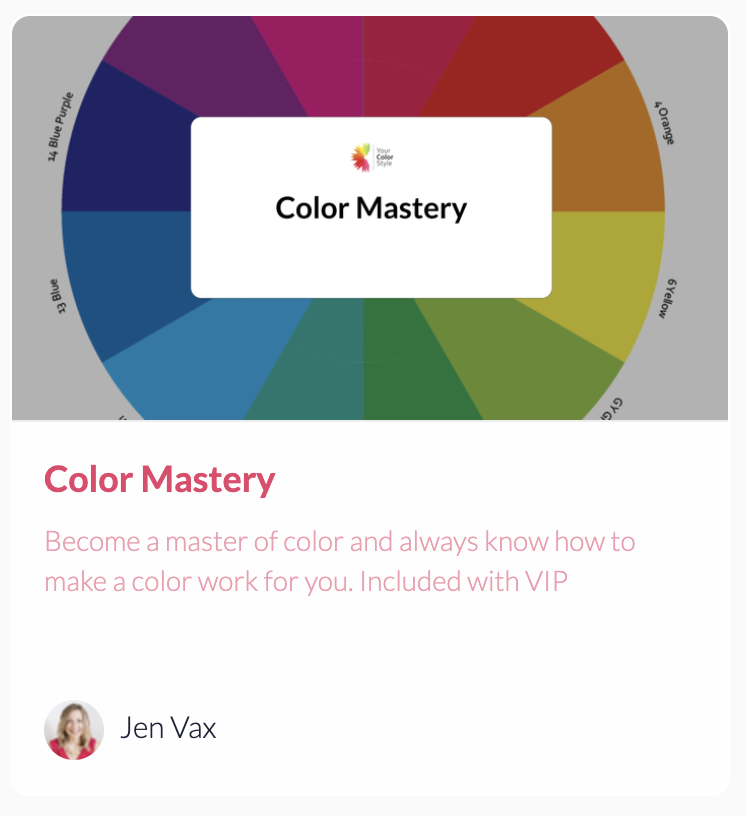 FIRST
Master how you see color with:
Color Mastery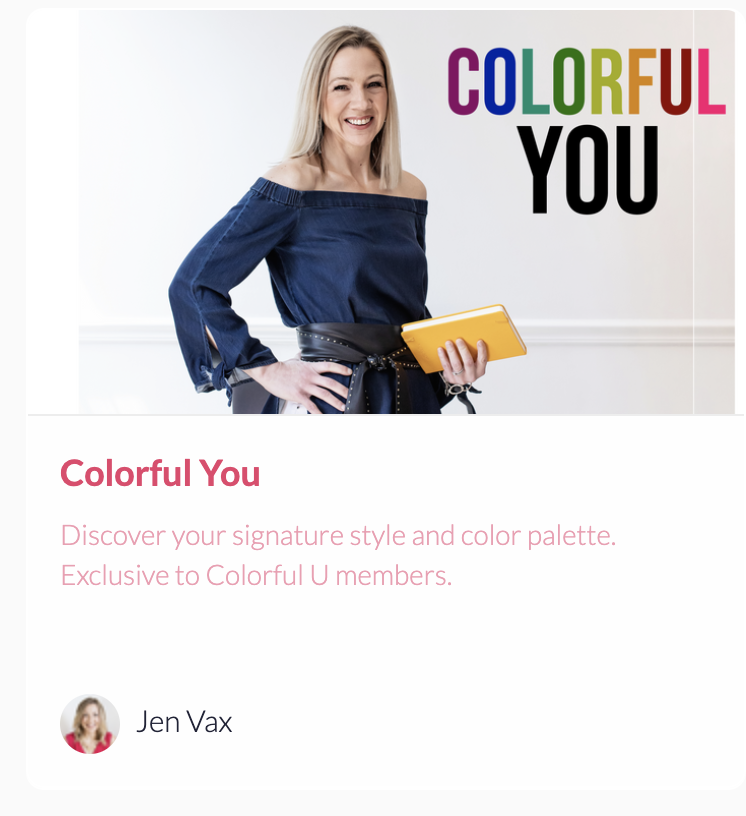 NEXT...
Transform your wardrobe to reflect your personal style with:
Colorful You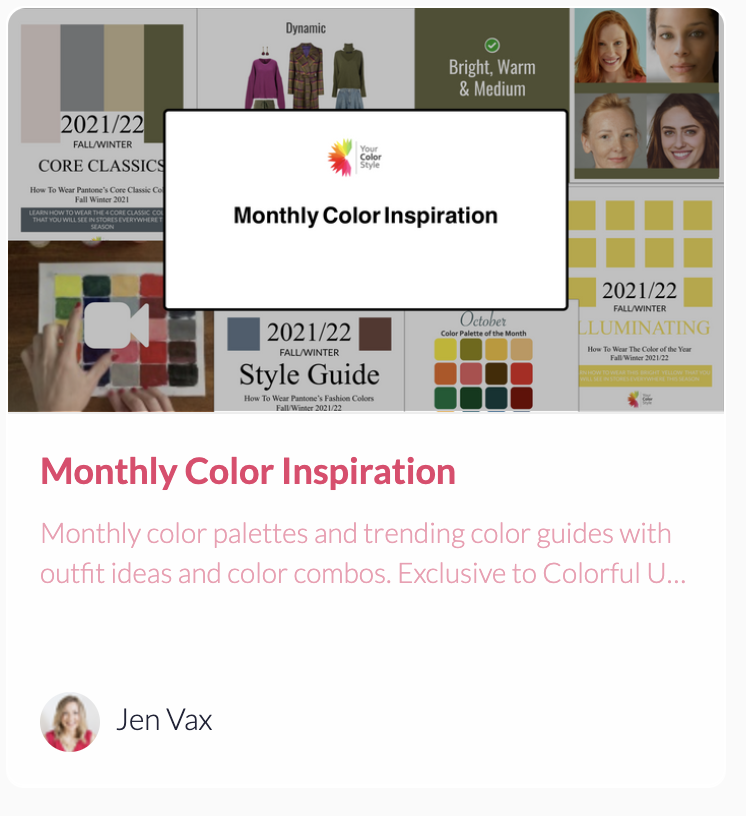 THEN...
Be inspired with color palettes and outfit ideas with:
Monthly Color Inspiration
Why become a VIP Colorful U Member today
Choose an annual plan and get a special discount:
By securing the offer on an annual plan now, you're essentially getting a massive discount on the VIP Colorful U membership, compared to a monthly plan. This makes an already great deal on your transformational education even more affordable.
The next intake of the program starts April 1st (no joke):
We kick this program off on April 1st. Hundreds of people from around the world will begin their journey together. Your Color Style programs are collaborative experiences designed to simulate engaging University classes. Live coaches will be available to you. And so for the best experience and outcomes, we recommend securing your spot in the group by becoming a VIP Colorful U Member now (although you can still start at any time and learn at your own pace).
Join a special group welcome call with Jen Vax:
Get the best possible start to your journey with this private Zoom call, where you'll connect with Jen and her team and discover how to make the most of your VIP Colorful U Membership. Plus, you'll meet other members so you have all the support you need to thrive from the first day.
Here's Are the Courses Included With
Your Colorful U Membership
(plus exclusive access to the private Facebook Group and the monthly content)
PLUS Exclusive Discounts
As a VIP Colorful U Member, you receive a coupon code that will give you a 10% discount on a Professional Color Analysis, Color Fans and Digital Color Palettes on YourColorStyle.com
You'll also receive free access to the premium content on YourColorStyle.com
"Just loved the Colorful You program live call yesterday. Finding my signature style with others is so much fun!!"
~Sue
Hi Jen,
I finally got a chance to sit down to be able to focus on the video you made for me. WOW - I can't tell you how much I was smiling through the whole thing. I don't know anything about running a business, but I can't imagine it is easy or leaves you much free time to do anything other than what you've already promised your subscribers and all the services and content you provide on a monthly basis, no matter how many people are on your team. For you to take even more time out of your life to personally sit down and record a quick chat for those of us who responded to your email --- it just shows SO MUCH how you care for your YCS/Colorful U family that you have brought together.
Thank you, again, for making each of us feel important and for showing how much you care about your subscribers. I am so happy to have found this new interest of mine and to have stumbled upon you and your platform. :) See you on Saturday's call! 
~ Gina Miller
"Color analysis peaked my interest lately when I started to notice that when wearing certain colors, I needed less
makeup and felt more vibrant and less tired ( and trust me, I need that hahaha) I am so glad to have found this platform and I am beyond happy and amazed with all I am learning right now!!! Can't wait to discover more!!! "
~Melanie
"I have absolutely loved all of the resources that you have provided and I have saved/downloaded the color guides that I purchased. I feel like I have lots of tools and I have been able to put into practice much of what I have learned. I have kind of sifted out my closet leaving only things I truly do like to wear and things that actually compliment me. I have had a ton of fun in this process.
Honestly - I couldn't be happier. :-) 
Thanks so much for providing the resources for me to get my style a little "unstuck" and gain some confidence again. "
~Kristin